Worthing and Beyond is an online database of creative people and businesses who support local creativity in Worthing, West Sussex, and the surrounding area (from Southwick to Bognor Regis). It's one of our side projects here at Huxley. We write profiles for all the Worthing creatives we can find – ranging from artists and illustrators, to street dance companies and musicians – then publish them on this website. Our aim is to connect local creatives with local businesses, in order to facilitate partnerships and creative collaborations without the need for agency fees. 'Worthing and Beyond: In Review' is a blog series that provides a monthly overview for Huxley's readers of what's new with Worthing and Beyond.
The weather started getting warmer, the sun was out longer, and there was hope on the horizon during the last month of lockdown. From exhibitions outdoors to International Women's Day celebrations, the Worthing creative scene really started to thaw out.
Read on to find out what Worthing & Beyond was up to in March.
Instagram:
In March we hit 755 followers! We posted 16 times and shared 22 stories. Our posts consisted of 10 creative profiles, 1 business profile, and 12 news items, with a total of 444 content interactions.
Your creative work and news is what makes the community continue to grow, so do keep sending and tagging us in things you want featured. Don't forget that all members will get a shoutout, so if you haven't seen yours yet, don't worry, it's in the queue 🙂
Go follow us at @worthingandbeyond if you aren't already.
Newsletter:
This month's newsletter went out to 144 people and had stories, offers, and opportunities from 10 W&B members. Make sure to join our newsletter here to find out the latest creative news in Worthing.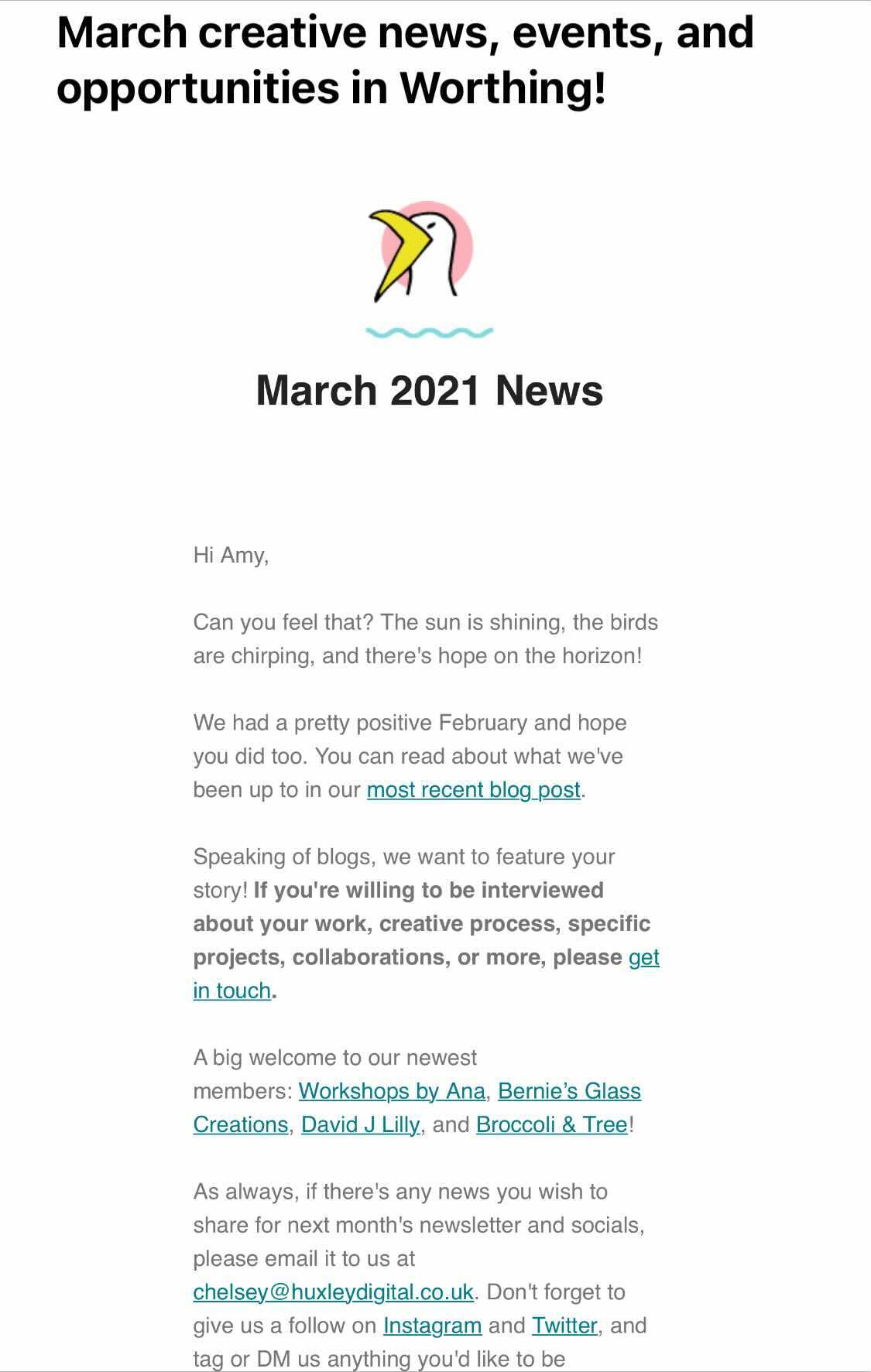 This month we interviewed Coombes-based jeweller and stained glass artist, David J Lilly. Go read it here to learn more about his most recent collection, where he draws inspiration, and his advice for budding business owners and artists.
We're always on the lookout for blog features, so if you're a member and are open to being interviewed, please do get in touch.
New Members:
In March we welcomed 7 new creatives:
Crimson Boner: Painter of dream-like imagery
Pippa Crowter: Worthing-based watercolour painter
Skin Job Leather: Hand carved leather artist
inkpixel creative studio: Creative designer & Therapeutic art and movement coach
Immy Murphy Photography: East Preston-based family photographer
Joe Bunn: the Bard of Worthing: Curator of local tales
Shoreham Art Gallery: Shoreham-based artist collective
Go give their lovely new profiles a browse.
That's all for our March Review! See you next month.
If you are a Worthing-based creative or business that supports local creativity and are interested in joining our free directory, please get in touch.
Visit the Worthing and Beyond website: click me!