Worthing and Beyond is an online database of creative people and businesses who support local creativity in Worthing, West Sussex, and the surrounding area (from Southwick to Bognor Regis). It's one of our side projects here at Huxley. We write profiles for all the Worthing creatives we can find – ranging from artists and illustrators, to street dance companies and musicians – then publish them on this website. Our aim is to connect local creatives with local businesses, in order to facilitate partnerships and creative collaborations without the need for agency fees. 'Worthing and Beyond: In Review' is a blog series that provides a monthly overview for Huxley's readers of what's new with Worthing and Beyond.
Despite lockdown, February was all about creativity and community
It was the shortest month of the year, but our members were busy! From Valentine's Day offers to raising money for charity to a lockdown Postcard Club, the month was chock-full of creativity and community.  
Read on to find out what Worthing & Beyond was up to in February.
Instagram:
In February we hit 622 followers! We posted 20 times and shared 34 stories. Our posts consisted of 9 creative profiles, 2 business profiles, and 8 news items, with a total of 589 content interactions.
Your creative work and news is what makes the community continue to grow, so do keep sending and tagging us in things you want featured. Don't forget that all members will get a shoutout, so if you haven't seen yours yet, don't worry, it's in the queue 🙂
Go follow us at @worthingandbeyond if you aren't already.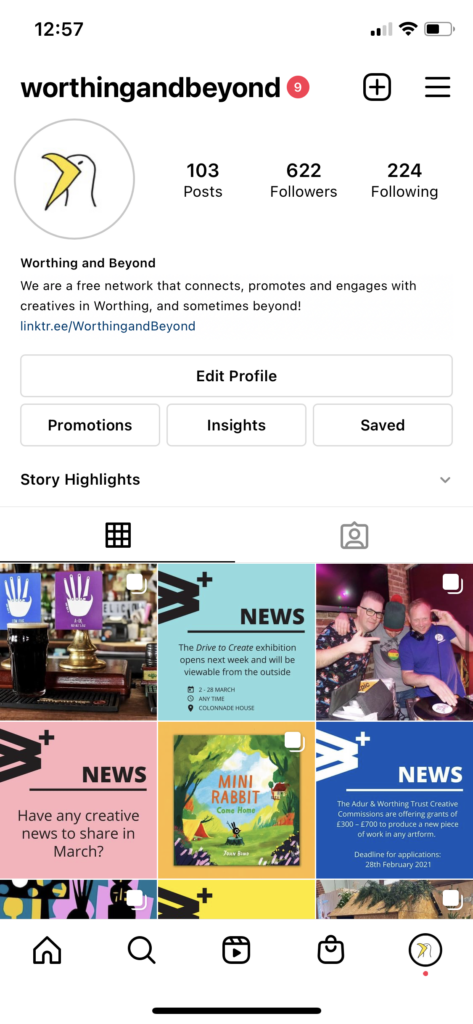 Newsletter:
Did you know we send out a monthly newsletter in the beginning of the month to local creatives with news from our members? This month's newsletter went out to 142 people and had 11 news stories, offers, and opportunities from 10 W&B members. Make sure to join our newsletter here to find out the latest creative news in Worthing.
This month we interviewed hello DODO, Worthing's own "smile spreaders, pun masters and colour enthusiasts!" Go read it here to learn more about their plans for 2021, their thoughts on Worthing, and their advice for creatives.
We're always on the lookout for blog features, so if you're a member and are open to being interviewed, please do get in touch.
New Members:
In January we welcomed 4 new creatives and businesses:

Workshops by Ana: Phone Photography Masterclasses
Bernie's Glass Creations: Beautiful glass art inspired by the sea
David J Lilly: Affordably luxurious hand-made jewellery
Broccoli & Tree: Fun designs for playful kids
Go give their lovely new profiles a browse.
That's all for our February Review! See you next month.
If you are a Worthing-based creative or business that supports local creativity and are interested in joining our free directory, please get in touch.
Visit the Worthing and Beyond website: click me!