2021 began with the same all-pervading fear and confusion we'd come to know and love in 2020, so what could possibly go wrong?!  Fortunately, we started the year positively – busy, with an optimistic team working productively with our customer's teams and hoping for a good year ahead.
Here for the sake of posterity is some of the stuff that happened…
---
More Mates
Our year began with the arrival of a new colleague, with Steve joining us to head up design and development, and Jason moving to more of a UX consultancy role.  Steve has brought a real passion for the web into our team, and has led the way by introducing a new accessible code framework for our development team, as well as performance-enhancing processes including more use of the excellent Twig templating engine.
Anna joined us for a Summer internship and played a key part in the set-up and delivery of our hugely successful Worthing and Beyond Summer event.  That network continued to grow and support creatives in our local area.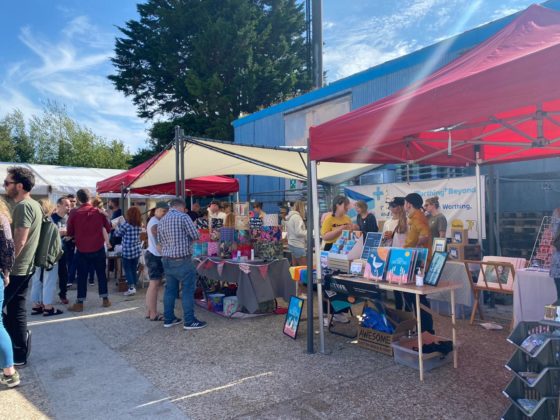 We have done a lot of work to understand the values and purpose of our business and to ensure those values are shared by our team.  Everyone has as much say in strategy and direction as everybody else, and we work to ensure everyone is invested and pulling in the same direction.  This understanding has really come to fruition in 2021 and our team is tighter and more valued than ever before.
Better Work
We try our best to always be learning and improving – and with a focus on genuine accessibility and usability at heart.  In the past year we delivered work we're really proud of for the Borough of Worthing, the City of London, Lyrici Arts, The Actor's Children's Trust and the National Guardian's Office.  We ended the year working with one of the most exciting names in graphic fiction and story-telling – Hollywood's AWA Studios.
We seek only to work with people we know we will get along with and who care about making more inclusive websites – people who we get and who get us, and 2021 was a great year for relationships like that.
Project Management
Senior Project Manager, Kati Byrne continued with us for most of 2021 – constantly innovating and improving project management processes and ensuring projects were delivered on-time and with as many opportunities for collaboration and communication as possible – even given the constantly fluid working landscape afforded us by a global pandemic!
We have a flexible, yet rock-solid approach for efficiently managing projects of any scope, with processes that are agile enough to suit the needs of our team and of the real people we work with, without feeling laboured and unaccommodating.
One tool introduced in 2021 was Metro Retro!  This gives us a great, remote and collaborative space to finish a project by analysing what everybody thought went well, what went wrong and where there might be room for improvement.  Simple, yet effective!  Check the retrospective template out.
Doing Business for Good
As discussed in more detail in this post: Doing Business for Good with B-Corp, we are trying our best to be driven as a business by a collective desire to make some kind of difference to our wider communities as well as to the internet as a whole (pixel by pixel). We want our company to be open, accountable and pleasant to work with, and for our business to practice what we preach when we talk about inclusivity and ethics.  We want to do business the right way.  This is the only future-proof way to run a business.
To keep us on track, we aim to achieve B-Corp accreditation in 2022.  B Corps are legally required to consider the impact of their decisions on their workers, customers, suppliers, community, and the environment.
As well as working on the internal policies to ensure we were doing better in those areas, we continued to invest time in our Worthing and Beyond and Rainbow Rovers side-projects, as well as smaller team-member inspired projects such as our sponsorship of a local bee-hive!
The Rainbow Rovers "Football United' event in August 2021, sponsored by Huxley, was one of the first LGBTQ+ football matches to be officially sanctioned and endorsed by the sport's governing body.  It provided us all with a great day out where the Rovers won a hard-fought 5-2 victory against a Utilita All-Stars team featuring former England International David James.  Go and buy the superb Rainbow Rovers shirt, made by Hope & Glory and designed by David Shrigley.
Stronger than ever
In order to continue to drive our agenda to promote a more inclusive and accessible web, we will begin 2022 with the launch of our new online accessibility magazine, Skip to Content.  This new side-project has been many months in the making and we will launch with a roster of fantastic interviews with some of the web's inclusion and accessibility influencers.  Spreading as much of their insight and knowledge as we're able to!
All of our core developers and designers are also working towards accreditation as Certified Web Accessibility Specialists.  We intend for Skip to Content to be a go-to resource for advice and insight to help people understand how to build a more inclusive internet.
---
So, as we ease into 2022, we know who we are, we know what we believe in and we know what we want to achieve over the course of the next 12 months.  So.  We're going to do our best to keep safe and ignore the stream of 'end is nigh' pain bombarding our senses 24/7, focus on all of the positives we're creating, and hopefully we can reconvene here in 12 months with a bright outlook for 2023!
Please keep your eye on our thoughts, because we continue to write down as many as we can for your perusal!  And if any of our side-projects are of interest (especially Skip to Content), please get in touch.
Happy New Year!
---